Master Plumbers Association of South Australia Inc is a not-for-profit registered Group Training Company which recruits, employs and manages on-job and off-job placement of Plumbing Apprentices.
Apprenticeships consist of four years of both working/learning with a host employer and attending Trade School to complete the required training units for a Certificate III in Plumbing and/or Gasfitting.
---
BENEFITS
We take every step required to look after our Apprentices and ensure they are well suited and satisfied with their Host Employer.
Master Plumbers GTS Apprentices are employed by us directly. Should an issue arise where the Host Employer can no longer host the Apprentice, we will endeavour to find another appropriate placement for them as soon as possible.
Master Plumbers GTS has a Code of Ethics, Employment Agreement and undertakes the necessary measures to ensure the Apprentice is protected and safe in their work environment. We also provide the Whitecard Induction training to all of our Apprentices if they have not already completed this.
---
SELECTION & RECRUITMENT
All Master Plumbers GTS Candidates undergo a selection process conducted by experienced and qualified trainers and plumbing professionals, and includes an Assessment Tool containing:
- basic understanding of the plumbing trade
- geometry & mathematics
- English language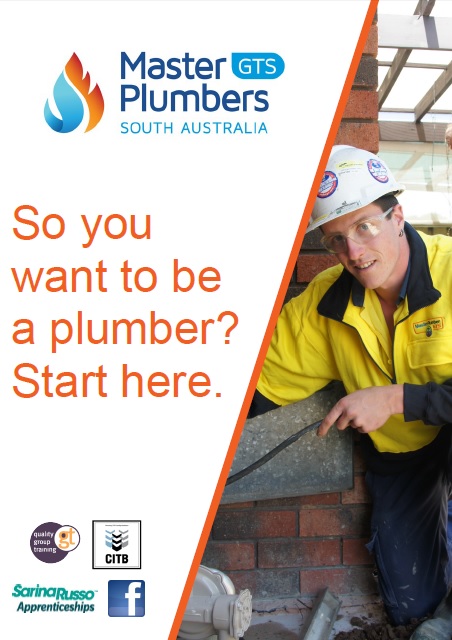 - Problem solving
- Spatial Reasoning
- Sketching & drawing interpretation
- Worksite safety

An ideal candidate will:
Have completed year 11 at High School, including Maths and English and
Have researched and undertaken work experience in plumbing or construction and
Be prepared to undertake pre-apprenticeship training and
Be fit and physically robust and
Keen to work outdoors and
Have an aptitude for problem solving and
Have excellent inter-personal skills and
Take pride in working accurately and neatly and
Take every opportunity to learn the trade
---
FURTHER INFORMATION
For further information on Apprenticeships with us, please
download our Apprentice Information Brochure.
---
APPLICATION
To apply for an Apprenticeship, please follow the process detailed below:
*Please ensure you complete

ALL sections

of the Application Form