Restricted Electrical Licence
Please note that all Training and Assessment for this program is undertaken by TAFE SA (RTO 41026).
Please also note that this Training is for the disconnect and reconnect of Hot Water Units only.
---
Course Overview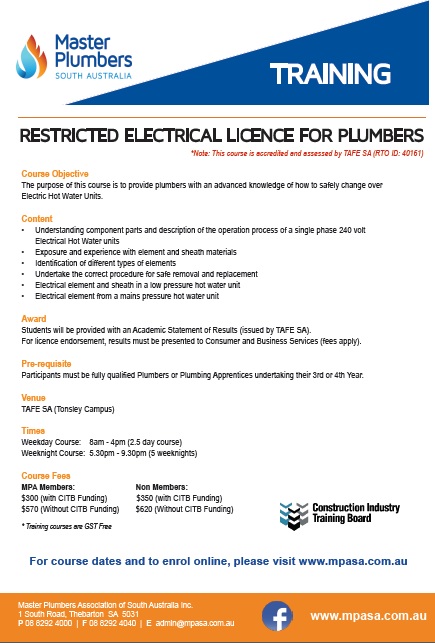 The purpose of this course is to provide plumbers with an advanced knowledge of how to safely disconnect and reconnect Electric Hot Water Units. Please note that this course has been tailored specifically for Plumbers and only covers the change over of Electric Hot Water Units.
Course Topics and Outcomes
Understanding component parts and description of the operation process of a single phase 240 volt Electric Hot Water Units
Exposure and experience with element and sheath materials
Identification of different types of elements
Undertake the correct procedure for safe removal and replacement
Electrical element and sheath in a low pressure hot water unit
Electrical element from a mains pressure hot water unit



Students will be provided with an Academic Statement of Results following completed (issued by TAFE SA).
For licence endorsement, successful students must present their results to Consumer and Business Services (Fees Apply).
Licensing decisions and fees are made by CBS. Please note that Apprentices can only include this
endorsement on their licence once fully qualified.
Please also note that Consumer and Business Services may also require individuals to hold the Low Voltage Rescue and Resuscitation (LVR/CPR) training (less than 12 months old), prior to applying for this licence endorsement.
---

Pre-requisite
Participants must be fully qualified Plumbers or Plumbing Apprentices undertaking their 3rd or 4th Year to undertake this course. Students must also have basic language, literacy and numeracy skills in order to successfully complete this training.
Delivery and Duration
This unit of competency is delivered and assessed face to face over a 20 hour period (2.5 sessions). Assessment for this course includes both theory and practical tasks.
Note: The Training and Assessment of this course is delievered by TAFE SA (RTO ID: 41026)
Venue / Location
This course is delivered by and at TAFE SA. There are currently two options for venues - Tonsley TAFE (Clovelly Park) and Elizabeth TAFE. Please refer to the Training Calendar for current dates and venue options.
Unique Student Identifier
Please note that Students are required to provide a USI (Unique Student Identifier) for this training program in order to receive their training results and any certificates, cards and /or academic statements. Please visit www.usi.gov.au for further information and to apply. Further information is also available here.
Dates:
Please refer to our Training Calendar for current course dates.


---
Course Fees:
| | |
| --- | --- |
| MPA Member | Non Member |
| $300 if eligible for CITB Subsidy* | $350 if eligible for CITB Subsidy* |
| $610 if not eligible for CITB Subsidy* | $660 if not eligible for CITB Subsidy* |
*Please note CITB Funding is only available to fully qualified Plumbers.

To apply for or refresh your card, please visit www.citb.org.au