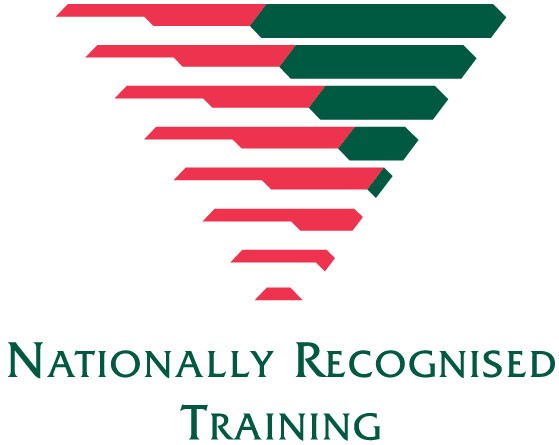 RTO: 40070
Course: Thermostatic Mixing Valves
Unit of Competency: CPCPWT4023A Commission and Maintain Hot and Heated Water Temperature Control Devices

Course Overview
This national unit of competency includes the outcomes required to test, commission and maintain water temperature control devices, including thermostatic mixing valves in water services. It covers preparation for work, identification of testing and commissioning requirements, physical testing and commissioning of devices, maintenance and completion of work finalisation processes.
This unit of competency provides an outcome for:
- Specialist plumbing services tradesperson and operators seeking to deepen their technical skills
- A competency towards the CPC40912 Certificate IV in Plumbing and Services
Course Topics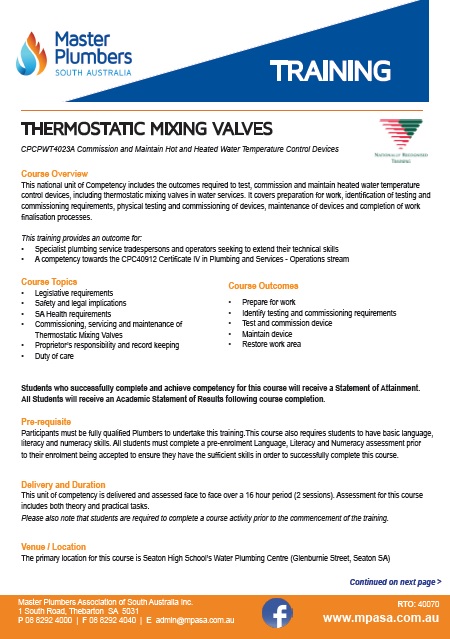 Legislative requirements
Safety & legal implications
SA Health requirements
Commissioning, servicing and maintenance of Thermostatic Mixing Valves
Proprietor's responsibility and record keeping
Course Outcomes
Prepare for work
Identify testing and commissioning requirements
Test and commission device
Maintain device
Restore work area

Students who successfully complete and achieve competency for this course will receive a Statement of Attainment. All Students will receive an Academic Statement of Results following course completion.
---

Pre-requisite
Participants must be fully qualified Plumbers to undertake this training. This course also requires students to have basic language, literacy and numeracy skills. All students must complete a pre-enrolment Language, Literacy and Numeracy assessment prior to their enrolment being accepted to ensure they have the sufficient skills in order to successfully complete this course.


Delivery and Duration
This unit of competency is delivered and assessed face to face over a 16 hour period (2 sessions). Assessment for this course includes both theory and practical tasks.
Please also note that students are required to complete a course activity prior to the commencement of the training.
Venue / Location
The primary location for this course is Seaton High School's Water Plumbing Centre (Glenburnie Street, Seaton SA)


Unique Student Identifier
As this unit of competency is nationally accredited, students must have a USI (Unique Student Identifier) in order to receive their training results and any certificates, cards and /or academic statements. Please visit www.usi.gov.au for further information and to apply. Further information is also available here.
Dates:
Please refer to our Training Calendar for current course dates.


---
Course Fees:
| | |
| --- | --- |
| MPA Member | Non Member |
| $495 if eligible for CITB Subsidy* | $565 if eligible for CITB Subsidy* |
| $785 if not eligible for CITB Subsidy* | $855 if not eligible for CITB Subsidy* |
*Course fees include the supply of the AS/NZS4032.3 Standard
*Please note that students must supply their own copy of AS/NZS 3500.1 Standard and stationery items (will be provided in detail upon enrolment).
*Please note CITB Funding is only available to fully qualified Plumbers.

To apply for or refresh your card, please visit www.citb.org.au