Doorways to Construction (Plumbing Plus)
DELIVERY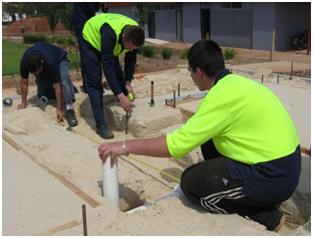 Doorways to Construction (Plumbing Plus) is a VET in Schools program, which is made up of 13 units of competency taken from the CPC32612 Certificate III in Roof Plumbing.
This program is delivered by the Master Plumbers Association of SA Inc approved Trainer, as well as Secondary School Teachers, who are also qualified Trainers and Assessors.
Course delivery consists of theory and practical tasks, including use of specialist construction and plumbing equipment.
---
THEORY COMPONENTS
D2C Plumbing Plus units include:
| | |
| --- | --- |
| CPCPCM2052A | Weld using oxy acetylene equipment |
| CPCPCM2049A | Cut using oxy-LPG-acetylene Equipment |
| CPCPCM2053A | Weld using manual metal arc welding equipment |
| CPCPCM2047A | Carry out levelling |
| CPCPCM2054A | Carry out simple concreting and rendering |
| CPCPCM3022A | Weld polyethylene and polypropylene pipes using fusion method |
| CPCPCM3023A | Fabricate and install non-ferrous pressure piping |
| CPCPCM2050A | Mark out materials |
| CPCPCM2048A | Cut and join sheet metal |
| CPCPCM3021A | Flash penetrations through roofs and walls |
| CPCPRF3022A | Fabricate and install roof drainage components |
| CPCPDR2024A | Install stormwater and sub-soil drainage systems |
| CPCPCM2043A | Carry out WHS requirements |
---
PRACTICAL PROJECTS
Carry out WHS Requirements
Flatt Butt Weld
Vertical-up Butt Weld
Round Pipe Butt Weld
Braze Weld
Oxy Cut
Pad Weld
Flat plate open Butt Weld
Horizontal Fillet Weld
Series Levelling
Concrete slab
Render masonry wall chase
Socket Fusion and Pipe Butt Welds
Non-Ferrous Piping Installation
90° round downpipe elbow pattern
Square to round duct transition
Sheet metal jointing
Sheet metal folding
Sheet metal toolbox
Circular roof penetration
Round roof penetration with Sleeve Upstand
Square roof penetration on corrugated sheet
Valley gutter
Box gutter and sump
Eaves, gutter mitres, stop ends and rectangular downpipe
90mm UPVC Drain Project
SW Subsoil Drainage connected to collection pit
---
PRE-REQUISITES
This course is open to Secondary School Students only (Years 10, 11 and 12). Students must have the basic language, literacy and numeracy skills required in order to undertake this training. Students are provided a pre-enrolment Assessment to ensure they meet this criteria. It is recommended that Students complete the CPC10111 Certificate I in Construction Qualification prior to undertaking this course, however it is not a compulsory pre-requisite.
Please note that the CPCPCM2043A Carry out WHS requirements is a pre-requisite for all units of competency included in this course. This means that this unit must be successfully completed prior to the commencement of any other units.