At 95 years old, many in the plumbing industry will be familiar with Jack Holder. He is a long time servant of the Plumbing industry, including a previous President of the Master Plumbers Association of SA between 1971-1973, as well as a Life Member. He has also been President of Master Plumbers Federation of Australia, Institute of Plumbing Australia and the South Australian Building Industry Specialist Contractor Association.
Jack was featured in the Sunday Mail in the Anzac Day special on 26th April 2020 (front cover and Page 9). Jack was not going to let the COVID-19 Pandemic stop him from reflecting on the loss of his comrades.
Please click here to read the article.

Please click the thumbnail below to watch the video on Jack's Story via The Advertiser: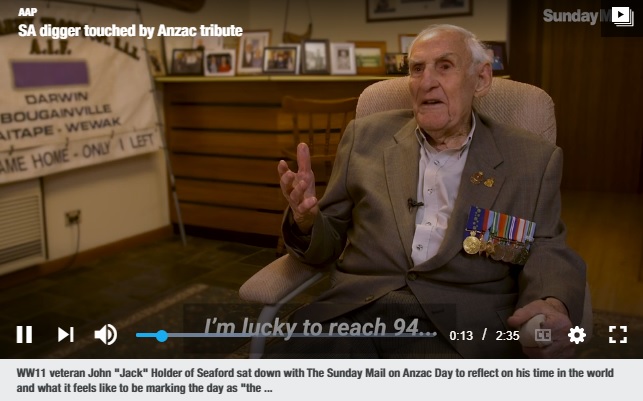 Source: Sunday Mail
Article by: Steve Rice
Photo by: Naomi Jellicoe
Advertiser.com.au
---
Jack's Story
Finally deciding to become a Plumber, Jack's pursuits were put on hold after Jack joined the Army in 1942. At the completion of the war, it took the army until May 1946 to discharge Jack after which he finished his apprenticeship and become a fully fledged plumber. In 1952, he started his own business as a master plumber and general builder.
It would take a book to write about Jack's involvement and commitment to plumbing, and in addition to this - Jack has been involved with the community in a number of ways and in various capacities.
Jack served as a Councillor in the Noarlunga Council for six years, involving himself with the Seaford Trust Fund, building homes for disabled persons, Independent Living for Mentally Handicapped and the McLaren Vale Hospital Board. On retiring from council, he continued with his work in the community, particularly with the handicapped. In appreciation of the service to his community, Jack has a council reserved named after him in his honour 'The Jack Holder Reserve'.
Jack's autobiography was published in late 2005, and is a great read. Jack has kindly donated copies to MPA and is available to Members.
We wish to thank Jack for all of his ongoing contributions and congratulate him on an incredible life and career.