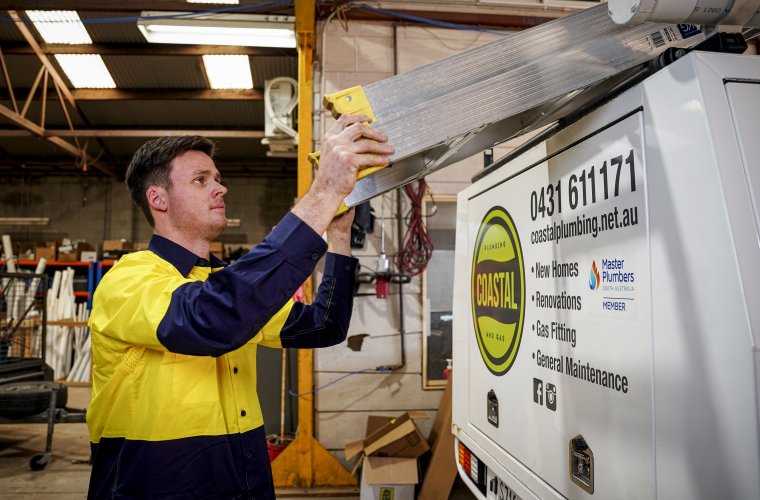 You may be able to tackle the odd plumbing job around the home, like changing a washer in a tap, but when it comes to anything more technical, hiring a licensed plumber is not only advisable, it is required by law.
Whether for a plumbing emergency, or as part of a planned project, if you need to enlist the services of a plumber there are a few things you can do to ensure you get the 'right' person for the right job.

Check their credentials or level of registration*
In South Australia, there are four levels of registration to undertake plumbing work.
---
Advanced Plumber

– Generally the 'Business Owner'

Can perform any plumbing work without direction or supervision and can provide a Certificate of Compliance.
---
Restricted Advanced Plumber
Can perform plumbing work restricted to a group of plumbing activities without direction or supervision. May be able to provide a Certificate of Compliance for particular activities.
---
Plumber

– Generally the worker of a business

Licensed to perform any plumbing work under the direction of a registered Advanced Plumber. Only the Advanced Plumber can certify the Plumbers work.
---
Restricted Plumber – 'The apprentice'
Can perform plumbing work under a registered contract of training, supervision of an Advanced Plumber is required.
Licensed plumbers are qualified to undertake any plumbing work. They have the skills and experience to ensure the work complies with the relevant plumbing regulations, codes and standards.
Advanced plumbers can certify the work and have gone one step further in completing required Certificate IV training to run their own plumbing business.
---

Check if the plumber is a member of Master Plumbers SA
Whilst not a legal requirement, many plumbing service providers choose to become a member of an industry association. Depending on the membership, it communicates to customer's their commitment to industry standards and provides added assurance of their qualifications. Members of Master Plumbers SA, for example, adhere to our code of ethics, are kept up to date with industry standards and regulatory and legislative changes, and must be qualified plumbers.
---

Check if they're insured
Skilled plumbers will always take precautions, whether the job is big or small. Nevertheless, accidents may happen. Licensed plumbing services should be insured for general liability and tradesperson's compensation. Insurance coverage also covers worker's handling problems with your plumbing and home. It's best to deal with a licensed and insured plumbing service. Whilst it's not always clear if a plumber is insured or not, you can always check if it is mentioned on their website or simply ask.
---

Check their online presence
Larger established plumbing companies will often have a well-maintained, updated, and informative website. Browse their listed services and look for any past projects they have been involved with to see if they are the right fit for your plumbing project. A plumbing company website will also often state their license number and detail of any memberships.
For smaller plumbing service providers, they may just have a Facebook page or local listings, which are still a great source on information. Another key service quality indicator is reviews that appear on third party platforms, such as Google Reviews and Facebook reviews. Just be mindful that fake reviews can occur in any industry.
---

Upfront quotes and transparent pricing
An established plumbing service will provide transparent pricing. No hidden fees and charges - all quotes are upfront, with a price breakdown made available upon request. We recommend always getting three quotes on any plumbing services you require. A three-quote minimum will give you a better idea of the value of the work and protect you from paying too much.
When it comes to choosing which plumbing companies to approach for a quote, start by asking friends and family for recommendations, research local plumbers online or ask an association like Master Plumbers SA for suitable references. Once a plumbing contractor is chosen, ensure you agree on a payment schedule and always read the conditions on the quote or contact before signing it. And once the job is done, request a Certificate of Compliance (when applicable) and any additional warranty documentation.
---
Master Plumbers Association South Australia
In South Australia, you can enquire with Master Plumbers SA to help you find a local licensed plumber you can trust. You can also check if a plumber is a Master Plumbers SA member by giving our team a call on 08 8292 4000 or click here for additional consumer advice.
*For detailed information on plumbing license terms, click here.
*To check the credentials of a plumber, click here.