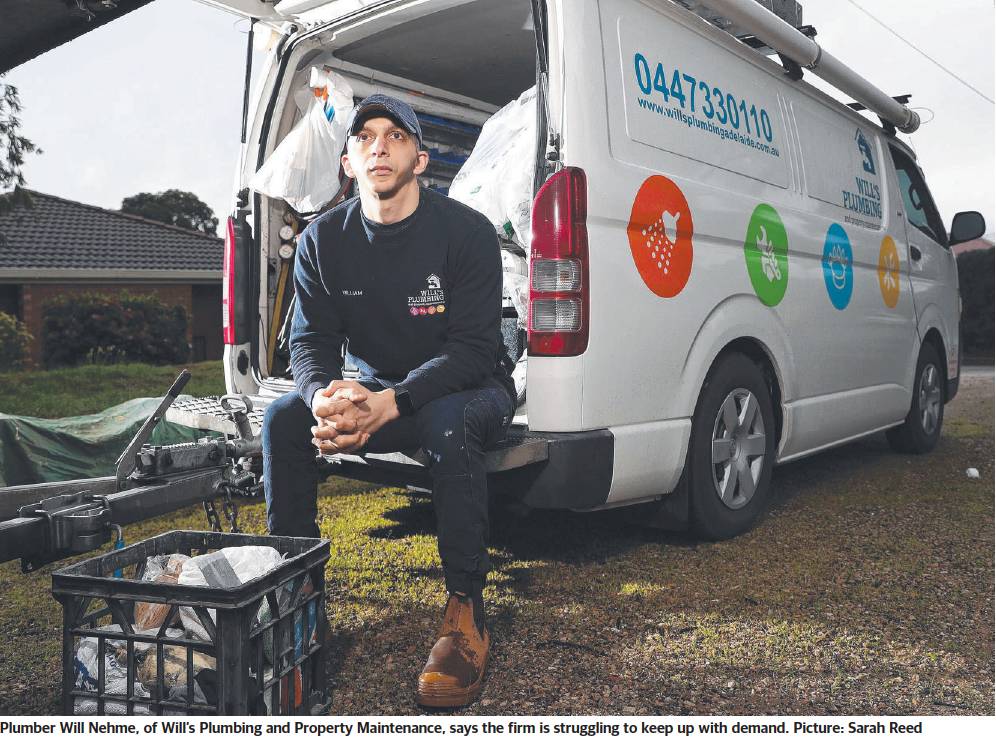 ---
Need a tradie? Be prepared to wait
ELIZABETH HENSON (The Advertiser)
---
Surge in demand means delays of up to three months
TRADIES are being "run off their feet" as demand surges and supplies dwindle, causing delays of up to three months for domestic maintenance and upgrade work.
The federal government's HomeBuilder grant and the Covid-19 pandemic keeping people at home are being blamed for a shortage of available tradespeople.
Tradies are grateful for the business but they are urging people to be patient as they work through everyone's jobs.
Master Plumbers SA chief executive Andrew Clarke said some tradies were "banked up for three months", but he stressed that emergency jobs were still being attended to within 24 hours. Mr Clarke attributed the surge in demand to a combination of the HomeBuilder grant, Covid-19 restrictions, and winter prompting call-outs for stormwater problems.
"There's an increase in new home builds and renovations," he said.
"Now people can't travel, they're effectively spending money on their homes."
Mr Clarke said there was no quick fix to the delays.
"The nature of the work is that you can't suddenly turn the tap on and there's more tradies. It's a skilled job," he said.
Housing Industry Association executive director Stephen Knight said tradies were "under the pump and will continue to be for some time". "At the moment, it is concreters, bricklayers, carpenters and roofers," he said.
"As the demand bubble works through, it will then become wall liners, tilers, painters and cabinet makers. Plumbers and electricians are also in short supply."
Will's Plumbing and Property Maintenance owner Will Nehme said the situation was making it difficult to recruit talented tradies to keep up with demand, with businesses offering pay rises and incentives to hold on to skilled workers.
"People will take it as it's great for business and, yes, in a way we're working to the bone. Everyone can't keep up," he said.
"This is a great economy to grow a business but the problem is we can't find workers. It's a double-edged sword."
Mr Nehme urged people to be patient. "All I can say to customers is don't compromise on tradesmen, because the ones who are busy and putting you on a waiting list, they are good," he said.
Carpenter and builder Nathan Thomas said he had been carefully managing his workload to ensure clients weren't waiting too long.
"I'm getting calls for five jobs a day that would take me three months to do," he said.
Coastal Plumbing and Gas owner Luke Belfrage said: "You make hay while the sun shines, but at the same time we're absolutely run off our feet.
"Most tradies are trying to keep up and the worst thing for us is letting people down, but we've only got so many hours in the day and so many guys in the team."
Mr Belfrage said timber and steel shortages were also wreaking havoc within the industry.
"It's busy now but it may all dry up pretty quickly if we can't get supplies," he said.
You make hay while the sun shines but at the same time we're … run off our feet" - Luke Belfrage