Electronic Certificates of Compliance
>

>

>

Electronic Certificates of Compliance

The Office of the Technical Regulator (OTR) is transitioning from the current paper-based process for plumbing, gas and electrical certificates of compliance to an automated system called eCoC.
The eCoC system is free for plumbing, gas and electrical contractors and workers, and enables them to complete, submit, store and refer to certificates of compliance online.
Contractors and workers can access the eCoC system via the internet from desktop and mobile devices.
Electrical, gas and plumbing contractors and workers need to complete a one-time registration to use the eCoC system. Contractors / Workers need to provide professional registration / licence number and expiry date, email address, a password and contractor / worker details. Once successfully registered, contractors / workers can log in using only a licence number and password.

---
Please click the thumbnail below to view the August 2016 issue of Regulation Roundup: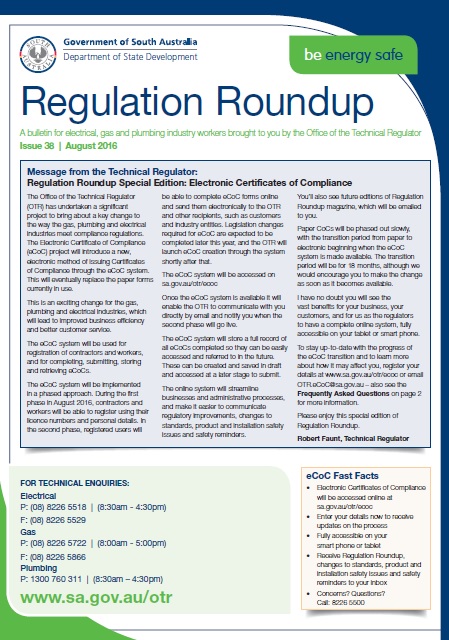 ---
LINKS