As you should all be aware, Certificates of Compliance are changing over to electronic format. This system was launched in 2016, and the transitional period is now coming to a close.
Paper Certificates of Compliance will no longer be accepted as of 1 July 2018. Thousands of Plumbers, Gas Fitters and Electricians have successfully registered for and are using the new eCoC system. The eCoC system features some fantastic tools for the industry, including:
Customer copy of eCoC
Customers can be automatically emailed a PDF copy of the certificate when submitted, as well as nominated other parties.

Adding workers, Supervisors and Admin Staff
The eCoC system allows you to add, remove, update and keep track of your workers and authorised persons easily. Contractors can also add supervisors and admin onto your eCoC account.
Record Keeping
All of your eCoC's are conveniently stored within the eCoC system and are easy to access. You can filter your eCoC's to see only Certified eCoC's with the click of a button.

---
Please click the thumbnail below to view the February 2018 issue of Regulation Roundup: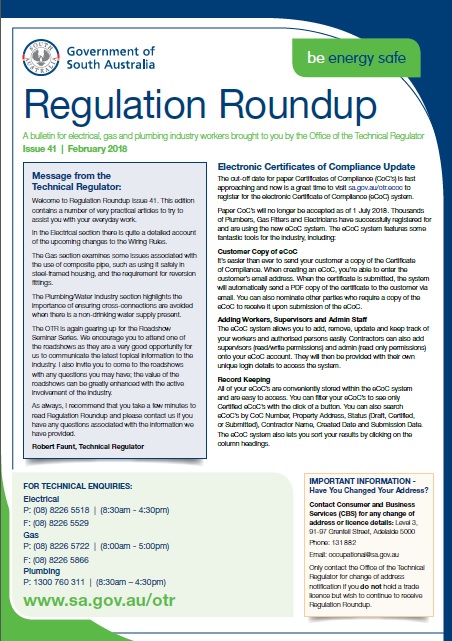 ---
LINKS